Rose Gold Diamond Heart Pendant
Graceful and elegant, our limited edition heart pendant crafted in 18K rose gold is a gift to cherish. Shimmering diamonds accent an open heart design suspended on a delicate chain to match. A portion of the proceeds will be donated in honor of American Heart Month.
Limited edition collection, subject to availability.
More Details
Style #

9280

Total Weight

1.00 carats
Length

Measurement of the total length of the piece, e.g. the end to end length of a bracelet, the chain length of a pendant or the total length of a necklace.

17 inches
$2,400USD
GET CONNECTED
WE LOOK FORWARD TO HELPING YOU FIND THE PERFECT DIAMOND DESIGN. PLEASE LET US KNOW IF YOU PREFER TO VISIT THE KWIAT BOUTIQUE
Schedule a viewing
We invite you to preview Kwiat diamond jewelry either virtually with our concierge, or in-person at a store near you. Let us know which pieces are of interest to you so they are available for your appointment.
We invite you to visit us without an appointment as well: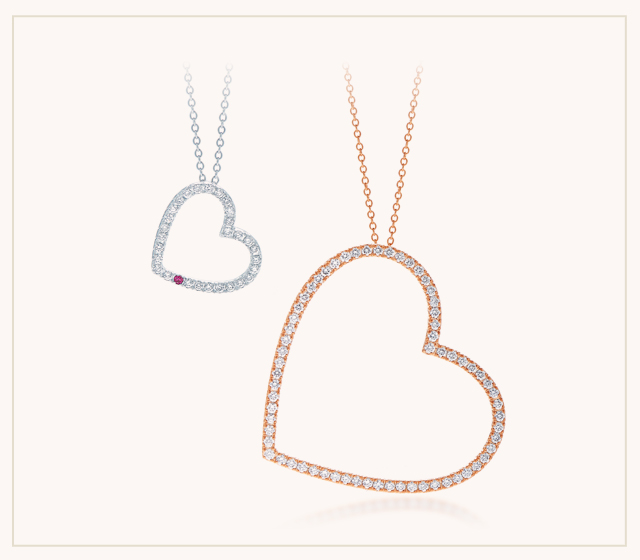 A Gift From The Heart
Kwiat is partnering with Wheels Up, a private aviation carrier, to donate a portion of proceeds from each heart pendant to the American Heart Association and SIMON'S Heart. Donations will fund free health screenings for students and help raise cardiac symptom awareness in children.
Speak with a Diamond Expert
[contact-form-7 id="7952″ title="Speak To A Diamond Expert"]
SCHEDULE AN APPOINTMENT
[contact-form-7 id="699″]
CUSTOM ENGRAVING
A custom monogram gives jewelry a personal touch.
DONT REMOVE THIS DIV

CONTACT A DIAMOND EXPERT
Leram ispum Leram ispum Leram ispum Leram ispum Leram ispum Leram ispum Leram ispum [contact-form-7 id="1318″ title="CONTACT A DIAMOND EXPERT"]